Pointillism Art Prints by Las Vegas Artist Carlos Cornejo

Las Vegas artist Carlos Cornejo's Pointillism art collection depicting life in various forms using vivid colors is now available for your pleasure.
These high quality Pointillism prints present a hint of dream-like expressions. His medium of inks and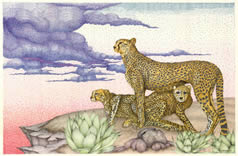 multiple layered dots with a never ending spectrum of color shows on each one of his prints.
Carlos' expressions come from a life-time of observations and experiences which stimulates his imagination. It is this imagination which helps him capture various feelings of action, stillness and life's colors which he then transforms into his art.
Custom art is also available from submitted photos of landscapes, portraits of a loved one or pet or whatever subject you would like.

Wildlife Art – Fantasy Art – Portraits – Mystical Art – Neosurrealism Art - Fantastic Art - Pointillism - Prints