About Carlos
I began my art career when my mother said that I was an artist being of the Chumash Indian background. I was taught that the earth, wind, fire, sky and water were all parts of my pallet.
As a high school student I was told by an art teacher that I had to find what style of art I do best and then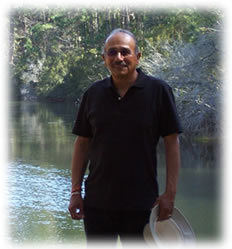 perfect it. With that advice I went on to attend City College, became Art Council President and was chosen to be the designer for the City of Pasadena Rose Parade Float "1962". I attended the Chouinard Art Institute with the assistance of 3 scholarships from Pasadena City College. There I was presented with a fellowship scholarship by Walt Disney. I also attended Otis Art Institute of Fine Arts and Art Center of Los Angeles.
After my tour in Vietnam, I began my professional art career. My first endeavor was working as an Aero-Space Illustrator. I then was employed as an Art Director of two well known advertising agencies. In the advertising world, time was of the essence. Therefore I learned how to do intricate freehand designs with great efficiency by the use of dots…
And so it began, finding what I do best.- Pointillism. This style has become part of my living soul. I do my best to capture the color of life and the spirit of expression.